Tools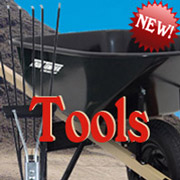 Suburban Lawn& Garden would like to help you as much as we can with your project. We have provided a selection of our most popular tools for working with mulch, soil & gravel. If you are placing an order for bulk materials and are in need of the proper tools, select them here. They will enter your shopping cart and we can add them to your order. Your tools will be delivered with your bulk order without additional delivery fees!
Polyethylene Tarp
Master Tradesman Green/Brown, Polyethylene Storage Tarp Cover 3.2 OZ per SQYD, 10 x 10 Weave per SQIN, Rolled Grommets, Tear Proof, Water Proof, UV Resistant, Mildew Proof. Highly recommended if installing color enhanced mulch to prevent concrete stain.
Available in 3 sizes.
Item# HRIC797777 – 10′ x 12′ – $ 11.99/ea,
Item# HRIC797827 – 12′ x 20′ – $ 24.99/ea,
Item# HRIC797843 – 15′ x 20′ – $ 29.99/ea