Mulch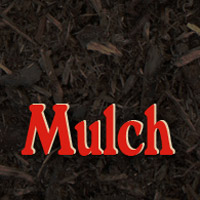 Cedar Mulch
Created from 100% Eastern Red Cedar (no fillers). The same wood as cedar chests and cedar closets, this mulch will provide insect protection for a limited time. You will love its aroma and golden color. Ask about free delivery with a minimum bulk order.
Cubic Yard (Bulk) $44.99
2 Cubic Ft. Bag $5.39
Pine Bark Nuggets
A perfect blend of small to large nuggets which hold moisture extremely well. This product will float and is not recommended for hills or slopes. Presents well and can be mixed with Pine Bark Soil Conditioner as added interest/texture.
Cubic yard (Bulk) $59.99
2 Cubic Ft. Bag $6.99